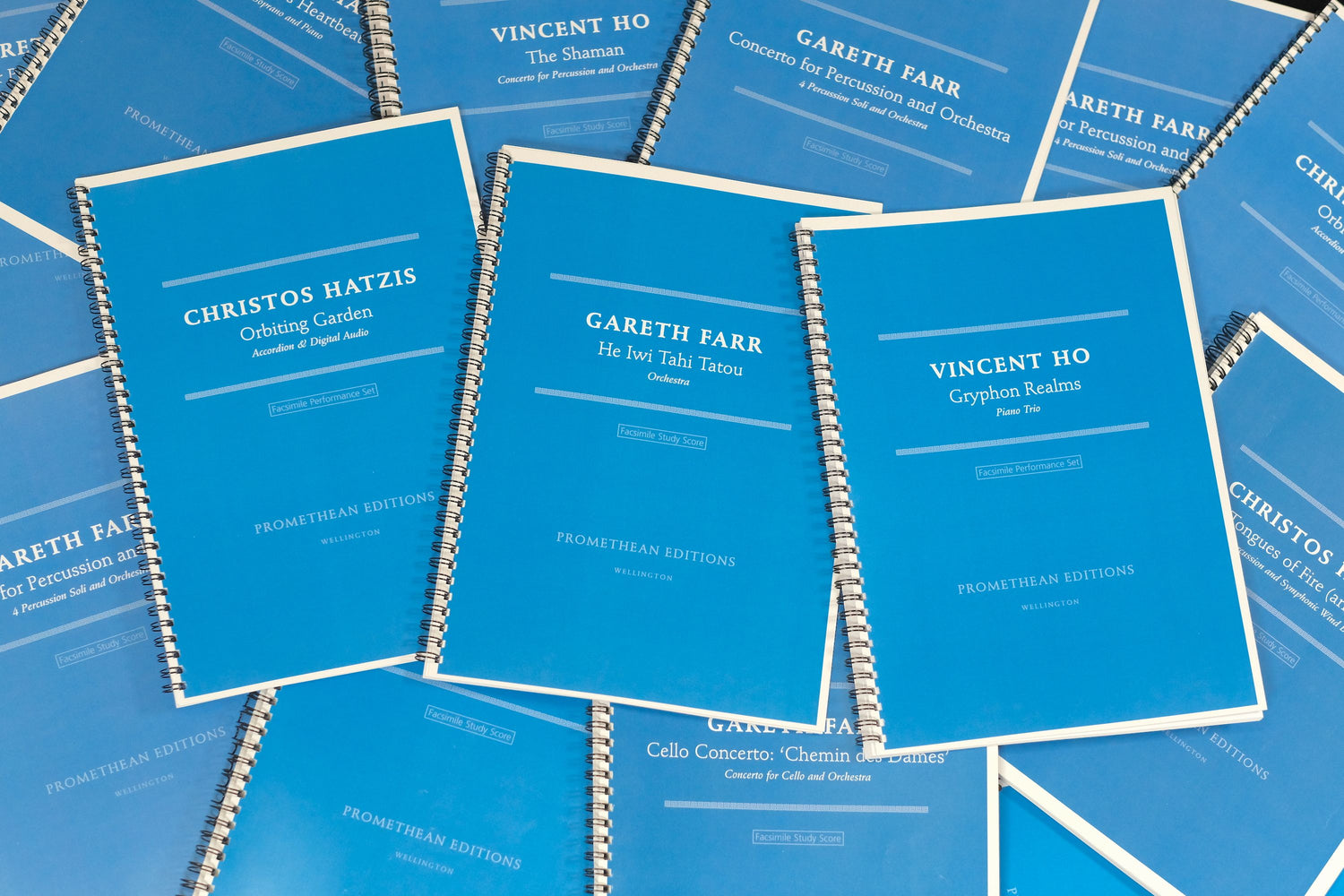 Facsimile Service
We make facsimile scores and facsimile performance material available to registered customers.
A number of works by our House Composers which have not yet been prepared for publication are made available in Facsimile Editions. These will be a copy (either photocopied or computer-sourced) of the finished version of a piece which has been either supplied by or prepared for the composer.
Retailers, trade customers, institutions and libraries with requests for this work, please advise your customers and patrons to contact us directly.
Hatzis, Christos
Tuba, Percussion and Digital Audio
Regular price
Sale price
$45.00 NZD
Unit price
per
Sale
Sold out
SKU:PEFCHPVT-D
In musical parlance, the title of this work is an instruction to French horn players to raise the bell of their instrument. However, it is the surreal imagery of a literal rendering of the term that has inspired the composition of this piece. Pavillons en l'Air is a sequence of 'floating' sound structures dissolving into one another, re-emerging and dissolving again. Two versions of the piece exist: the original for tuba and percussion and an alternative for double bass and percussion. In both versions the percussion and tape parts are identical, while the tuba and double bass parts differ considerably.

More often than not the tuba and double bass are stereotyped as sluggish, unpoetic, mainly support-role instruments. In Pavillons en l'Air, however, both instruments constantly explore their individual identity, in the case of the tuba with the use of multiple sonorities (singing and playing at the same time) and in the case of the double bass with the extensive use of an array of special effects (harmonics and other non-conventional sounds). They are pitted against high shakuhachi and Japanese percussion sounds in the tape part. The tape represents an idealized sound world which the live instruments try to reach and in so doing they are constantly engaged in pushing their upper register to the limit. Pavillons en l'Air is the first piece of a tetralogy of electroacoustic works entitled Quaternio, the others of which are The Birth of Venus, From the Vanishing Gardens of Eden and Of Threads and Labyrinths.
Editorial Precision

This product is a reproduction of the composer's original manuscript. It has not been edited or engraved by our experts and may contain errors and/or layout collisions.
Materials

The digital version is a PDF download and the bottom of each page is stamped with the details of the purchaser. The print version, available on request, is printed on standard paper with a card cover and bound with a black wire.
Shipping & Returns

Facsimile scores are not available for returns or refunds. Print versions are made to order and digital versions are non refundable. Please see our return and refund policy here for more information.
Dimensions

Our facsimile products are usually formatted to A4 paper size.
Share
View full details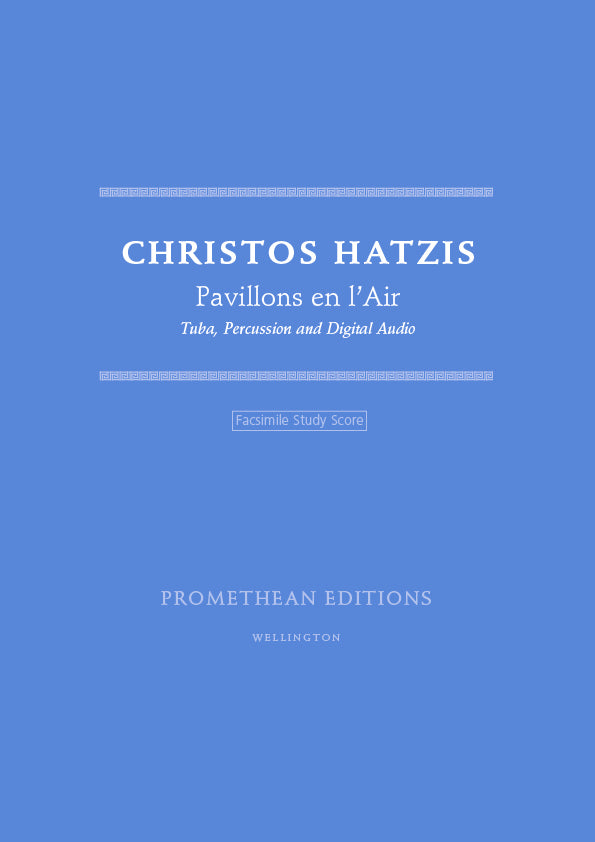 Editorial Note

A facsimile copy of the composer's manuscript of this work is available for purchase as a study score for reference and study. This material is a copy of the original composer's manuscript and is not edited or formatted for publication.

End User Statement

This service is only available to individuals and may not be resold.

Copyright

The provision of this service, and/or circulation of copies of the manuscript, does not constitute the copy as a publication or published edition under the New Zealand Copyright Act 1994.