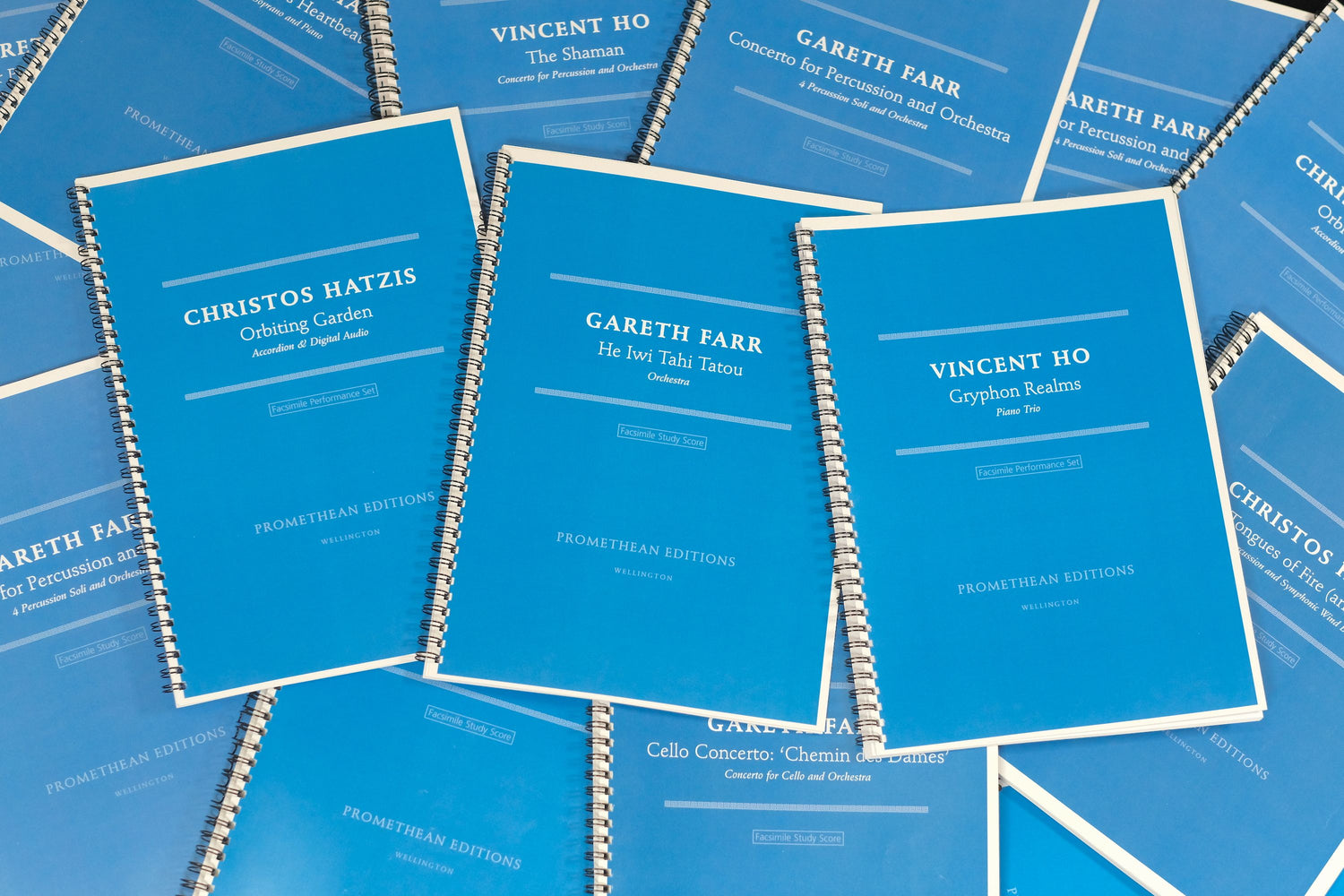 Facsimile Service
We make facsimile scores and facsimile performance material available to registered customers.
A number of works by our House Composers which have not yet been prepared for publication are made available in Facsimile Editions. These will be a copy (either photocopied or computer-sourced) of the finished version of a piece which has been either supplied by or prepared for the composer.
Retailers, trade customers, institutions and libraries with requests for this work, please advise your customers and patrons to contact us directly.
Hatzis, Christos
String Quartet and Chamber Orchestra
Regular price
Sale price
$25.00 NZD
Unit price
per
Sale
Sold out
SKU:PEFCHRE
Redemption: Book 1, for string quartet and chamber orchestra, is the first part of Hatzis' larger Redemption cycle of five works, which centres on the story of humanity's spiritual fall and redemption as expounded by American seer Edgar Cayce. Each of the five parts within the cycle are stand-alone works, but contain thematic links that bring them together. As such, the complete cycle can be presented together as part of a larger festival event.
Editorial Precision

This product is a reproduction of the composer's original manuscript. It has not been edited or engraved by our experts and may contain errors and/or layout collisions.
Materials

The digital version is a PDF download and the bottom of each page is stamped with the details of the purchaser. The print version, available on request, is printed on standard paper with a card cover and bound with a black wire.
Shipping & Returns

Facsimile scores are not available for returns or refunds. Print versions are made to order and digital versions are non refundable. Please see our return and refund policy here for more information.
Dimensions

Our Facsimile products are usually formatted to A4.
Share
View full details
Editorial Note

A facsimile copy of the composer's manuscript of this work is available for purchase as a study score for reference and study. This material is a copy of the original composer's manuscript and is not edited or formatted for publication.

End User Statement

This service is only available to individuals and may not be resold.

Copyright

The provision of this service, and/or circulation of copies of the manuscript, does not constitute the copy as a publication or published edition under the New Zealand Copyright Act 1994.